This is the first day of the 7-Day Real Food Challenge.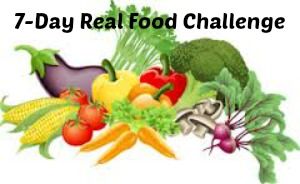 There are eleven bloggers participating in the challenge, including our hostess, from
Mary's Kitchen
. We have all agreed to eat only natural foods we make from scratch ourselves, for one week.
If you've been following me for any length of time, you know I started eliminating processed food from my diet over a year ago. Packaged foods went first and canned followed. I moved toward organic, fair trade, locally grown/produced food. "Well, Yeah for you", you say. Come on, some of you did!
I'm going to ask a favour of you, so I'd better explain why I've put so much time and energy into making these changes to my diet. There's the obvious health aspect. I've become so distrustful of the food industry that I want to know where my food comes from, how it was produced, where it was produced and who was involved in that production.
I also feel strongly about the need to rethink how we inhabit this planet. Those of us who live in North America have lost connection with the very things that sustain us. We were given so much land, so many natural resources and so much affluence that we are like spoiled, ungrateful children. Isn't Canada amazing from space!
photo courtesy of NASA
Did you ever notice that the happiest families make meal times something special? Every single time I've written about making an old fashioned recipe, picking berries or canning produce, the comments flood in with everyone's happy memories of those same things. When we are connected to our food, we reconnect with ourselves. I never hear anyone fondly reminisce about a pizza they ordered when they were kids.
So, this week, I'll show you what I am doing to keep that connection going. I'll try more of the make it myself recipes I've stockpiled on Pinterest and I'll try to address the issues of time and costs in moving in the direction of natural foods.
And, the favour I want from you? I'd love to have your input! What works for you? If you are a blogger, send me the link to a post with a real food recipe and I'll link back to you. For non bloggers, tell us what you do to eat well in the comments or, better yet, send me an email with your recipe and a pic of what you made and I'll include it in a post. We really need to hear from parents with kids at home! It's all fine and dandy for a single woman, on a half acre of land, with four chickens popping out eggs, but how do urban, working parents do it? It would be great fun to hear from the six or so guys that I know read this blog!
Are you all up to the challenge?
ps - I froze green beans and dried herbs today and I'll show you that tomorrow.